Get to know the authors of our #PinoyScifi collection and perhaps, you'll land into the reason why you must read them all.
If you've been a fan of science fiction, you might be wondering if #PinoyScifi is worth your time. Filipino writers have continuously defined the craft of fiction which is apparent in the daily media we consume (TV, Wattpad, etc.), and our job at 8Letters is to bring light to what Philippine Science Fiction is all about.
Since we started with Renato Tranquilino's Fate of a Distant Future, we've published a handful of anthologies featuring the best short stories in collections entitled Pilipinas 2413, Super Societies and recently, Detachable. Each book shows a futuristic view of the Philippines and the world. Each makes its own way to the beyond.
What SciFi book influenced you the most?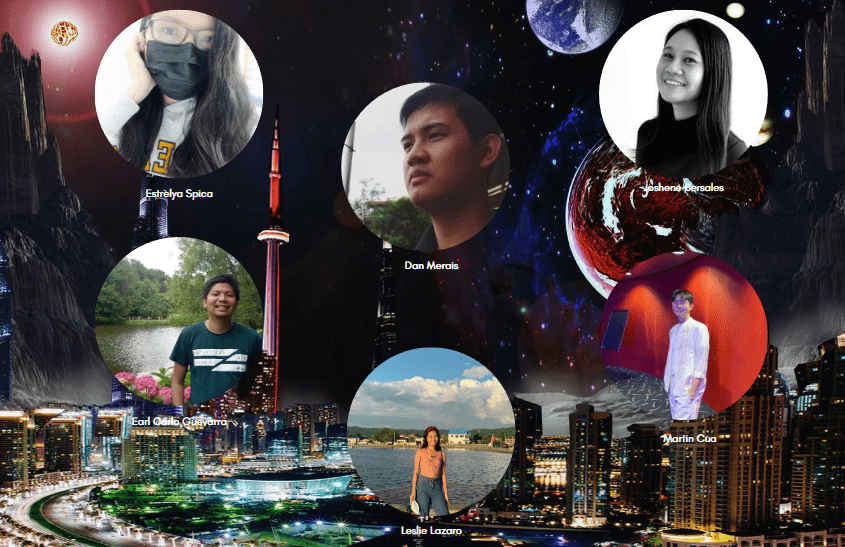 Carmel Ilustrisimo: The Giver by Lois Lowry. I read it at age 11 and it was the first time I realized that stories could be set in the future.
Tristan Buenaflor: Science Fiction: Filipino Fiction for Young Adults" ng UP Press ang kauna-unahang scifi na binili at tinapos ko'ng basahin noong ako'y nasa kolehiyo pa. Sa partikular, hindi ko malimutan ang "Jeepney Blues" ni Kim Sarabia rito. Isang scifi na nasa konteksto ng isang lumubog nang Pilipinas. Dito ko natuklasan na mga PinoyScifi lang ang natatanging scifi na kayang ikwento at maging representante ng ating karanasa bilang mga Pilipino.
Nasyer Dacaynos: I've read a lot of sci-fi stories growing up, mostly from various collective story writing forums that I frequented, but one that really stuck out to me and really influenced me was Frank Herbert's Dune. It sparked my love for Space Operas and really made me want to write more of them.
M.A. Del Rosario: The books that influenced me the most with regards to science fiction are: Fahrenheit 451 and Martian Chronicles by Ray Bradbury, and The Lathe of Heaven by Ursula K. Le Guin. I am mostly a fantasy and horror reader, but I have a few heroes when it comes to good sci-fi. I'm more of a soft sci-fi reader rather than the works of Asimov and Heinlein, which are technical and detailed in science rather than the fiction part.
Joshene Bersales: I'd like to think that I've collected bits and pieces from all the books I've read over the years, which helped me develop my own writing style. Examples of these books are A Wrinkle in Time by Ursula K. Le Guin, 1984 by George Orwell, and The Kite of Stars and other stories by Dean Alfar.
Ruth Villalon: I rarely read sci-fi books since I prefer reading stuff that can take you in a world where you can meet and battle dragons, train and have an adventure like a seasoned sorcerer, or witness a war between the good and the bad. But recently, when I was finally able to purchase myself a copy of Iron Widow — a sci-fi book that I've been meaning to read ever since I came across a YouTube video of its author, Xiran Jay Zhao — I could pretty much say that it's the sci-fi book that had influenced me the most. The main protagonist, Wu Zetian was based of China's only female emperor (also having the same name). I loved how she was portrayed, a woman of many ambition and determination to smash patriarchy, a system that had been limiting women of the things they could actually do. Reading it was a feast in the eyes, my imagination was most definitely satisfied, and it's also an inspiration to become strong since Zetian was a very strong lead.
Dan Merais: The sci-fi book that influenced me the most is Philip K. Dick's Do Androids Dream of Electric Sheep? (which was adapted into the film Blade Runner). This novel taught me to pay attention to the world-building aspect of a sci-fi story, to tackle important themes about humanity, and to keep readers on the edge of their seats by incorporating twists and turns in the plot. I always remember these lessons whenever I write a science-fiction story.
Arius Raposas: This is a difficult choice for me, as I derive inspiration from a myriad of science fiction works over time. Then again, if I were to cite one of them among the classics, it would be Time Machine by H. G. Wells. If I were to choose from more recent works, I would like to place Haruhi Suzumiya in high regard.
Arnold Patena: The Forever Watch by Pinoy author and scientist David Ramirez and Ready Player One by Ernest Cline.
Leslie Lazaro: It's impossible to pick one. Zoey Draven's 'Horde Kings of Dakkar' series is currently my biggest sci-fi read. Neil Gaiman had the most significant impact on me as a writer. My favorite sci-fi story of his is 'Changes.'
Brian Reyes: Science fiction has long been one of my favorite genres but I grew up reading fantasy books mostly. I've only read sci-fi in recent years. One sci-fi book that influenced me the most is Frank Herbert's Dune.
Alfonso Divinagracia: The sci-fi book that influenced me the most was The Lost World by Sir Arthur Conan Doyle; an enormously influential book on how I approach the craft.
Immanuel Canicosa: Kurt Vonnegut's Slaughterhouse Five is one of my favorite books because it showed me what scifi is capable of. While the story still centers on a man who becomes "unstuck in time" and what he learns from the aliens that he meets, Vonnegut is able to cover a lot of topics and discuss a lot of issues, from the horrors of war to religion and philosophy, all while including his trademark black humor.
Earl Carlo Guverra: The first-ever science fiction book that I've read: War of the Worlds!
Martin Cua: Philip K. Dick's Do Androids Dream of Electric Sheep? got me into the sci-fi genre, and is the book I always return to every time I feel creatively stuck. Set in a post-apocalyptic San Fransisco, we follow Rick Deckard as he hunts down fugitive androids to legally "retire" them. A thought-provoking novel that opens up philosophical conversations about human's lack of humanity, and vice versa, the "becoming human" of replicants. It is still one of the books I like to have in my backpack and read during a hellish commute.
Mary Elaine Virtucio: I rarely read sci-fi books and immerse myself more in reading fantasy books. But most of my sci-fi stories were influenced by watching sci-fi films and other films set in either utopian or dystopian worlds. Few of my favorite movies are Tomorrowland and Chappie. I also enjoy animated films and some of my recent favorites are Next Gen, Hello World, and The Mitchells vs. The Machines.
Sunny Tan: I like sci-fi of all kinds, but the ones that rub off on me most tend to be softer sci fi and speculative fiction. 'How High We Go in the Dark' by Sequoia Nagamatsu was an extremely powerful novel, and has influenced my recent writing quite strongly.
Julienne Pal: The sci-fi books that influenced me the most are probably The Hunger Games by Suzanne Collins and The Lunar Chronicles by Marissa Meyer. Although people don't usually think of teen-oriented literature when they think of sci-fi, a lot of them are definitely good sci-fi. The rich world-building of The Hunger Games left a deep imprint on my psyche growing up. Its imaginative descriptions of futuristic technology influenced my work greatly. The Lunar Chronicles also features futuristic technology. Another thing that these two book series have in common is their focus on complex female protagonists, something that I hope to do in my own stories as well.
Hennesy Oh: Soft sci-fi is my preferred genre. It's difficult to choose and recall all the books I've read up to now, so I'll just choose the latest: "The Handmaid's Tale" and "Testaments." Okay, I gave two, but it's a diptych; one is crucial to the other. What I loved about this was its comprehensiveness and authenticity. Gilead is fictional, yet very real ( as with most scifi). Gilead is the present amplified to paint the future. The moral issues and dilemmas it presented are not very far from what's happening today. If you think it is then you need to touch some grass, be in touch with reality. It was a lesson, a statement, a call to action to actively participate in societal restructuring and change. Soft sci-fi is not too futuristic. This makes it very engaging. We could continuously apply the body of thought.
Abigail Gaje: The scifi book that influenced me the most is Divergent by Veronica Roth. I'm particularly interested in dystopian and utopian literature. Both make us explore unrealities as we are transported to a world with societies that are either controlling or perfect. Reading scifi books can stretch our imagination, thus, it can be entertaining.
What should people watch out for PinoyScifi?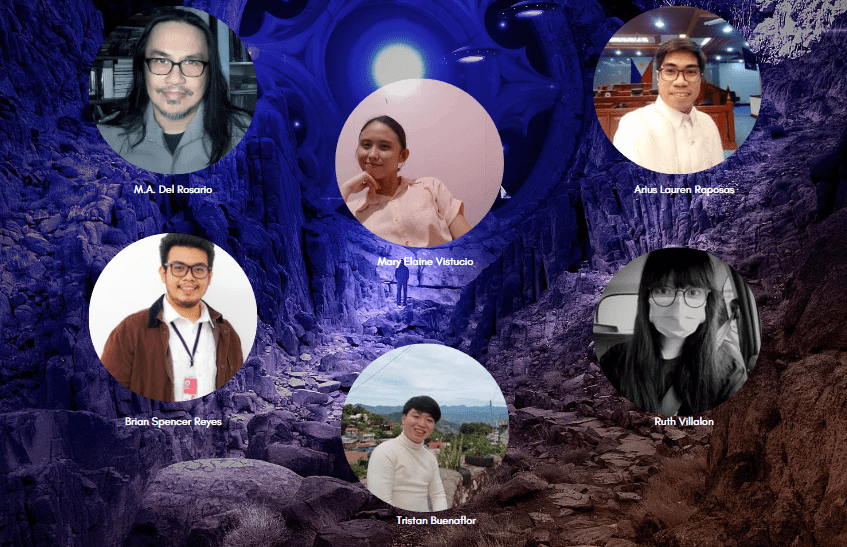 Ruth Villalon: Basically all the stuff about being Pinoy! I'm pretty sure that everyone feels the same when they see something Pinoy in a certain story. It makes them feel excited, giddy, and very happy with a huge smile on their face. So people should definitely watch out for the Pinoy flavour added to it.
Estrelya Spica: Writing a science fiction is like predicting our future and forecasting our technology. Some of the story might come true. It could be time traveling, teleportation, human-cyborg, apocalyptic phenomenon, manbot, spaceship, and habitable planets.
Cal Beauregard: our society is gradually evolving and turning into a technology based world. The readers should watch out for all the stories that are included in the book because each of them has a knowledge and a message to tell that will give the readers a new perspective of what truly life is—that science also plays a huge role in our life as a Filipino, that somehow, science has the power to transform anything, could it be for bad or good in our country.
Dan Merais: When reading Pinoy Sci-fi stories, people should always watch out for how these stories incorporate Filipino culture and norms. For decades, we have been watching sci-fi films and reading sci-fi books, but these stories are all from a foreign viewpoint. Now, we can finally see how Filipino authors imagine the future of the Philippines would be and how sci-fi conventions, such as technology, intertwine with our culture. Thus, Filipino readers will feel a sense of pride and even gain insight from these stories.
Arius Raposas: It may sound conceited, but I would particularly recommend watching out for my own work "Kamay ng Raniag" in this newest installment of PinoyScifi. For what else could I recommend than my own work which I know about the most? Personally speaking, elements of this plot have been floating around my head for around 15 years, and PinoyScifi finally gave me a chance to implement it. Without dropping any more hints that may give it away, although the story does not exactly revolve around outer space, I believe Star Wars and Avengers fans would find a striking reference to the plot's primary concept. I like how the anthology's title "Detachable" alludes somehow to this story as well, but of course, the twists I consciously provided would be left for you to find out.
Brian Reyes: Anything the mind can think of! Or even the unimaginable. Such is the beauty of speculative fiction. But if I had to pin down exactly what to watch out for in PinoyScifi, it would be how the writers incorporate the "Pinoy-ness" into the story.
Immanuel Canicosa: Creating alternate realities and alternate timelines takes imagination and talent, and it's exciting to find out where and when we'll be taken as readers when we read the stories written by the authors of the Pinoy SciFi books.
Martin Cua: The up-and-coming young Filipino writers are highly imaginative in nature. I believe we gravitate toward the sci-fi genre, be free-flowingly imaginative, so we could advocate for a cause we are passionate about without creative constraints.
Mary Elaine Virtucio: Science fiction in the Philippine context will more likely emphasize the resiliency that the Filipino people would possess if a new world or a new system emerged. PinoyScifi stories would highlight the culture and identity of being a Filipino; however, not just strictly limit it to Filipino norms and traditions. People should watch out for how Filipino writers unravel their imagination and venture in the world of science fiction.
Why Read #PinoySciFi?
Carmel Illustrismo: Philippine sci-fi is an emerging and underrated genre. It contextualizes familiar elements of the genre (interplanetary exploration, dystopias and utopias, parallel dimensions, etc.) within current Filipino reality and culture. It makes us look at current events and history from a different light.
Tristan Buenaflor: Sa PinoySciFi, may pagkakataon tayong makita kung paano masasalin ang ating lokal na karanasan sa genre ng scifi. Matatagpuan dito ang mga posibilidad sa kung paano mabibigyang buhay ang ating kultura, isyu, at identidad sa mundo ng mga mekanikal na tao, hightech na mga gusali, at iba pang sangkap ng genre na ito.
Nasyer Dacaynos: To be personal, I really love sci-fi. And one of the key things as I've mentioned that got me to that point in the first place are the collective writings that people added up onto in various forums in various ways. I loved reading them as they evolved, and if I'm being honest, I feel PinoyScifi is just like that, and if it could inspire someone else like me to write their own stories, I believe that would be amazing.
Joshene Bersales: Whether you're a scifi enthusiast or you want to dip your toes into the genre, I think you'll find in the anthology a story you can connect with, something you'll go back to at random points in the future because a line or a scene has struck you and made you say, "Ah, so this is Pinoy scifi!
Ruth Villalon: Although not many people read stories with a sci-fi genre (since most actually read romance), when come across to or stumbled upon, they would realise and think, "this is actually pretty good." To make it more interesting is the fact that PinoyScifi is well, basically Pinoy! A sci-fi story that showcases who we are, what we are, and represent us and our identity. It would be something that we could relate to because it will have our culture, belief, and basically anything Filipino about it. That's basically the reason why people should read PinoyScifi, because it showcases us.
Cal Beauregard: Everyone should read PinoyScifi, even those who aren't really into science, because it's one hell of an experience to understand what's beyond certain things that we aren't able to comprehend with limited knowledge. It offers different dimensions, stories, information, and lessons in our life as a human of the Philippines. The really good thing about it is that, it is not only a collection of stories involving science, but they also have elements that appear appealing to Filipino readers. It is a systematic ride of masterpieces in a Filipino way.
Dan Merais: People should read PinoySciFi because these stories help emphasize things that we should notice for our country to progress. Even though these stories look at the future of the Philippines, its elements/themes are grounded in the present, meaning that the problems/conflicts seen in these stories are still preventable. Essentially, these stories serve as a warning, similar to how 1984 warned society about totalitarianism and how Jurassic Park warned people about tampering with nature. If we heed the warning, we may get a better future.
Arius Raposas: Filipinos writing science fiction is probably not something that you would hear everyday, and PinoyScifi might well be among those taking that courageous step to help popularize them. For that matter, I think I am not in a position to adequately assess the other entries of this anthology, for their respective authors would know them better than I do. Then again, perhaps it would be safe to say that writers should be their own biggest fans. They write on what they believe deserves to be out there. Before anyone else, they believed in these stories first, and forged on despite their own inner critics. I am quite confident that everyone else who I would share this anthology with have similar feelings for their own precious works as well. Platforms such as PinoyScifi help provide this golden opportunity for more people to discover quality gems such as they, and this is a great reason why support for PinoyScifi is merited. In addition, I believe science fiction can be beneficial for our strategies with science education. With talent and imagination overflowing, there are more stories only waiting to be published.
Arnold Patena: Pinoy SciFi is much more relatable, bringing our own voice into a genre dominated by Western ideals and experiences. It will expose our inner yearnings for what we want our future to be or warn us of our own follies. Pinoy SciFi will ultimately enrich our literary scene both for authors and readers who are eager to explore new frontiers.
Leslie Lazaro:
One: Because it's fun! Pinoy sci-fi is a way for readers to visit different worlds, advanced sample tech, and experience the unreal through the minds of fellow Filipinos.
Two: Reality shapes fiction, but fiction always gives back. Fiction inspires movements and inventions. One of the most popular examples is how Star Trek inspired the invention of the cellphone. Who knows what Pinoy sci-fi can inspire if given a chance?
In college, I read that in Southeast Asia, the tradition of writing sci-fi is the oldest in the Philippines. And so here's three: It is simply sci-fi's due that we continue to read it and even popularize it.
Brian Reyes: While sci-fi isn't new to our country, I think it has a very niche audience. But that only makes writing sci-fi stories all the more special. But I don't think one should read PinoyScifi just because we put a lot of effort into it. I think one should read PinoyScifi because it is a glimpse into what could be our future, whether good or bad.
Earl Carlo Guevarra: Read PinoyScifi not because it's gawang lokal, but for its quality! There are tales written by Filipino authors out there that are read internationally, which means that we can also make it out there!
Immanuel Canicosa: PinoyScifi is the culmination of bizarre dreams, eureka moments and random musings of aspiring writers in the Philippines.
Mary Elaine Virtucio: It is not just about supporting Philippine literature but also expanding our knowledge of what we could be if we reimagined our system and lean closer to a speculative, scientific revolution in Philippine literature. Reading and appreciating PinoySciFi stories or Philippine science fiction is one step toward uplifting Philippine literature and encouraging more Filipino writers to produce futuristic-like works.
Sunny Tan: I would argue that more than any other genre, sci-fi is influenced by our experiences. It is our dreams of the future, but how we envision the future is based on our experiences of the past – as individuals, and as a culture. We've seen so many stories now with Americans floating in space, Koreans and Japanese youth fighting in huge robots, etc. It is exciting to take uniquely Filipino dreams, personalities, ways-of-being and ways-of-reasoning into that new frontier to join them.
Hennesy Oh: Read PinoySciFi. Before school started, I read Filipino authors Gina Aposto, Arnold Arre, Mia P. Manansala. Their works were fresh and thought-provoking. I can't compare them to any nonFIlipino authors (whether it be good or bad), but I can only say that I enjoyed their works thoroughly. From start to finish, I was hooked. That's something, because I DNF a book based on the first sentence (first chapter is the maximum).
Abigail Gaje: There is so much talent that should be recognized. Filipino scifi authors should be given the chance to show everyone what they can contribute to literature. It's time for them to be given the appreciation they definitely deserve.
Make sure to follow #PinoySciFi on Facebook for more!